North East Wedding DJ & Event DJ
Durham | Newcastle | Northumberland | UK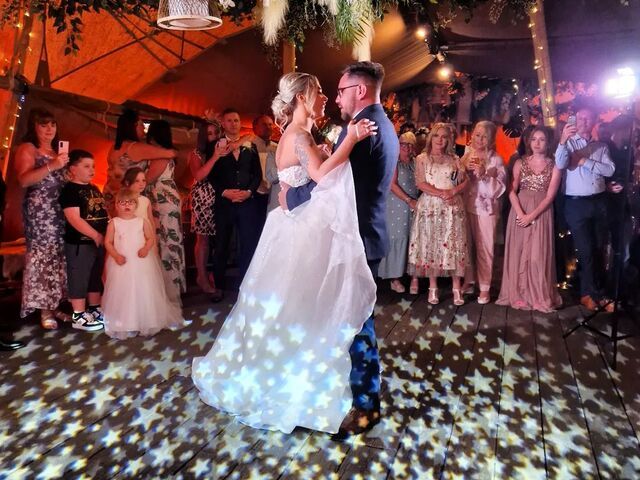 Your wedding day is a momentous occasion, and the evening reception is the perfect time to celebrate with your loved ones. As a favourite North East wedding DJ, I'm committed to understanding your unique music taste and crafting a tailored playlist that reflects your style. My goal is to keep the dance floor lively and joyful, creating cherished memories for you and your guests. Trust me to deliver a personalised night of exceptional music that will make your wedding reception truly unforgettable.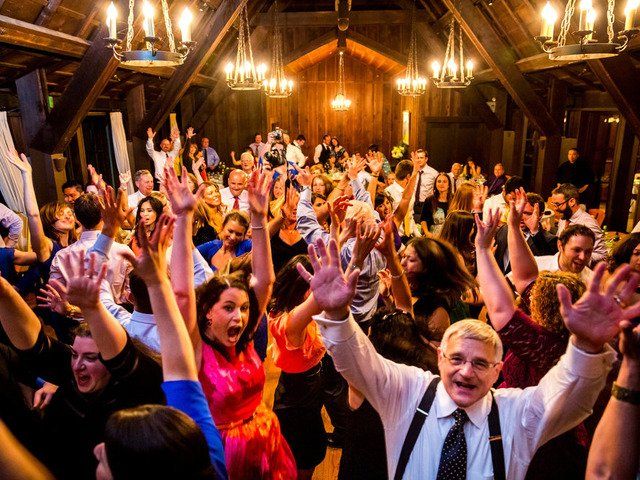 As a top-rated mobile DJ for hire in the North East, I take pride in delivering exceptional service and creating lively parties, including some truly wild nights. With extensive experience, music knowledge, and DJ skills, I've earned over 100 'Excellent' 5-star reviews. My versatile Mobile Disco & DJ Hire packages in the North East cater to your desired style and atmosphere. Trust me to play the perfect music for you and your guests, guaranteeing an unforgettable experience for all at your event.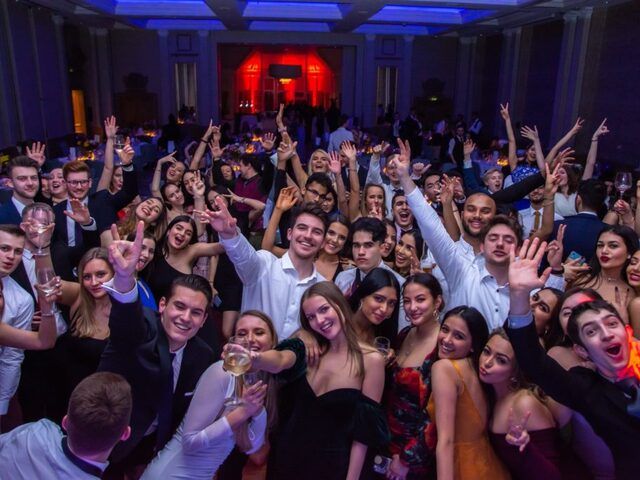 I specialise in DJing for a variety of student events at universities across the North East, including Newcastle, Durham, and Northumbria. As a recent graduate myself, I know popular student tastes, from tech-house to chart remixes and Flares & Revs vibes. My experience spans university balls, formals, galas, and various society events. My music taste and DJ skills set me apart from the cliché DJs typically hired for "discos". I can also cater to international students with Reggaetón, Latin, and Bhangra music.
About Ryan Boden DJ
Ryan Boden, a renowned Wedding and Events DJ based in the North East of England, has held the prestigious title of "Best Rated DJ in Newcastle" for seven consecutive years since 2017. This accolade is supported by numerous five-star reviews from satisfied brides, grooms, and clients. Ryan's distinct DJing style attracts clients from across the UK and Europe, as well as the Americas and Australia, as he regularly performs at weddings and private events throughout the region.
With a versatile personal music taste and an extensive collection spanning various genres, Ryan can cater to any preference. His repertoire includes wedding classics, indie, Britpop, alternative, rock, disco, Motown, house, R'n'B, and dance and trance anthems.
When you choose Ryan Boden DJ, you're guaranteed to have booked a dedicated and passionate DJ hire service. Ryan takes the time to understand your specific needs and delivers a tailored, modern DJ experience with exceptional attention to detail and personalisation. Your celebration will be uniquely yours and everything you envisioned.
Get in touch to discuss booking a trusted DJ for your wedding or special event, or simply for a chat.
Britpop, Alternative & Indie DJ
Playing alternative DJ sets at weddings is one of my areas of expertise. Immersed in the world of indie, rock, pop punk, and emo music spanning from the 80s to the latest releases, I am the ideal DJ for your alternative wedding. If an alternative wedding is your thing, then I am certainly the DJ for you. Together, we will craft the perfect atmosphere featuring tracks that both you and your guests will love. My diverse repertoire features a range of artists, from Oasis to Sam Fender, Panic! At The Disco to The Veronicas, Fleetwood Mac to Red Hot Chilli Peppers.
House, Dance & Remixes DJ
I love mixing Ibiza house, disco edits, dance classics, and remixes of both old and new tracks. The expansive nature of dance music allows everyone to appreciate the timeless melodies and vocals frequently sampled in today's releases. My skills enable me to mix seamlessly across various genres, such as disco, house classics, tech house, deep house, dance, trance and disco re-edits. Among my favourites are works by Joey Negro, Dimitri From Paris, Sister Sledge, Luca Debonaire, as well as the latest releases from Defected & Glitterbox.
Multi-Genre Party DJ
As a top-rated DJ in the North East, I get to perform at numerous events every week and possess a keen understanding of which tracks resonate best with diverse crowds across various genres. My expertise lies in selecting floor fillers that ignite excitement and keep your guests dancing throughout the night. My vast music collection spans all decades, from the 50s to the latest charts, covering genres such as Motown, RnB, Pop, Rock, Reggae, Indie, Dance, Hip-hop, 80s classics, and a selection of throwback tracks of your forgotten favourites.
Ryan was the DJ for our wedding on the 18th Feb 2023 and we honestly couldn't of asked for more. He played literally everything we asked for before the wedding and nothing was any bother on the night. Our guests had a blast and have said how good you were on the night going from one banger to another. You certainly satisfied all the dance/ trance fans! The custom edit you did for our first dance was also perfect. I only wish I could dance 😂 Thanks again and we will certainly recommend you to all our friends and family who will be having events in the north east.
Ryan was our DJ for our wedding in July and what can I say! I honestly could not have hoped for more! He arrived very early and set up all of his equipment so he was ready when everyone started to enter for the reception, he also offered me some kind words to settle my nerves before our first dance. He took care of all the announcements throughout the evening and when we entered the dance floor for the first dance he got everyone to stand up around us and cheer which was so much fun. We gave him a few suggestions of our favourite tracks to work from and he delivered perfectly to our music tastes! People were up dancing all night and were really enjoying themselves. The best thing was that everyone kept on talking about how good the DJ was, he made everyone feel so relaxed and took care of everything so professionally. I would absolutely recommend Ryan for any wedding or event and if I ever have to organise another event myself, he will be the first person I contact. Thank you so much Ryan, you made our day one that we will never ever forget!!
Ellie Wiltshire
01/12/2022
We booked Ryan for our wedding that was supposed to be in 2020 but it wasn't until June 2021 that we finally got married! With 3 postponements and re-arrangements due to restrictions, Ryan could not have been more helpful and accommodating. Ryan really did make us feel that he was there for us during whatever Covid threw at us, nothing was too much and he was always prompt at replying to our emails with excellent and detailed help. Ryan clearly has a passion for what he does and this really shone bright throughout his service before, during and after our wedding day. His attention to the details was impeccable and he comprehensively understood our music taste and created the most amazing DJ set we could have ever asked for! All of our guests spoke of how great the music was and how the party was exactly what they needed, it was what we needed too after a year of rearrangements! Ryan, you were brilliant! Thank you so much Ryan and we wish to see you again soon! Take Care Ellie & Rhys
Ryan was absolutely brilliant from start to finish, he did everything we asked of him and the music was amazing. We hired him last minute for our wedding party and he sorted everything so quick. I'm still now getting messages from guests complimenting his playlist/ music choice. He's a lovely bloke and kept us up to speed with the plan and any changes that needed to happen due to timings of food/ photos. 5* would highly recommend!! Thank you Ryan. Sam & Domini.
Ryan was the best wedding DJ we could have asked for. He read the room perfectly and played great songs, has the best set up and lighting rig, and was a pleasure to work with from day 1 of booking him. My husband is Icelandic and Ryan flawlessly fit in Icelandic songs to his playlist throughout the night with absolutely no issues. I would absolutely recommend him to anyone getting married, and I wouldn't hesitate to book him for any future events we may have!
David Broderick
21/07/2022
Hire Ryan to DJ your wedding! He was happy to play a playlist we pulled together (and added a few bangers we hadn't thought of throughout the night as well) and only hopped on the mic when necessary so we could all just enjoy the tunes. Plus, he was super easy to deal with and seems like a great guy. Cheers again Ryan!
Made a good day special. Thanks to Rayan's lights and great music everyone enjoyed the day at Tristan and Holly's Wedding. From the Bride and Groom first dance to the end of the evening. Thanks from Jill and John ( Mam and Dad)
From start to finish Ryan was very professional, helpful and a pleasure to deal with. Our music requests where a little different than the norm and he smashed it out of the park. A DJ who understands that just turning up the volume doesn't make a good party, he always got everything just right. I'd throw another party for no other reason than just to have Ryan DJ again. Do your party a favour and book Ryan now!!!
Ryan did an awesome job making our wedding so much fun and keeping everyone dancing! He tailored to our tastes fantastically and really made the entire night. Massive thanks Ryan 😀
We chose Ryan for our wedding after reading some great things online. Ryan was really easy to work with very agreeable. He played all of the tunes that we'd asked for and kept everyone happy and dancing, creating a great atmosphere for the evening of our wedding!